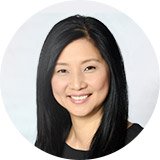 Helen Chang
Helen is the Founder, CEO and Editorial Director at Author Bridge Media. She has overseen more than 300 book projects, including several best sellers whose authors have appeared on CNN, ABC, HGTV, A&E, Oprah, Forbes, Parade and other media. Helen excels at bringing together talented experts who embody the core values of Author Bridge, to give authors a transformative experience and quality product of which they can be proud.
Helen's first ghostwritten manuscript told a compelling emotional story, yet was deemed "unmarketable," until she revised it to include the author's expert methods. The manuscript turned into a best-selling book that grew into a $100 million business for its author. It also formed the basis of Helen's Create My Book System™, which has helped hundreds of authors produce compelling and marketable books.
An award-winning former journalist, Helen's bylined articles have appeared in BusinessWeek, International Herald Tribune, San Francisco Chronicle, and many others. During her off hours, she strums a pink ukelele and sings Hawaiian songs.
---